Welcome to the Denver Fisher House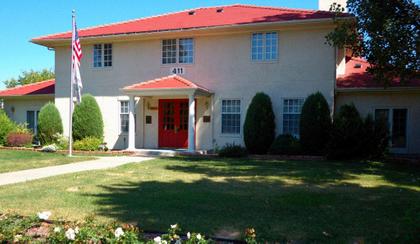 Denver Fisher House
We provide a "home away from home" for military families to be close to a loved one during hospitalization for an illness, disease or injury. Families do not pay to stay at a Fisher House.
Pets are not allowed at the Denver Fisher House. Club Pet Resorts, Aurora, (approximately 5 miles east of the Denver Fisher House) will provide boarding for your cat or dog at a reduced rate if you tell them you are staying at the Fisher House.
We are proud to be a part of the Fisher House Foundation whose CEO, Ken Fisher, stepped up within 24 hours of the government shutdown and said the Fisher House Foundation would pay the death benefits of the heroes who lost their lives in Afghanistan during the shutdown.
DENVER FISHER HOUSE IS A SMOKE AND ALCOHOL FREE ENVIRONMENT.
WE ARE A PART OF THE VETERANS ADMINISTRATION, THEREFORE,
IN ACCORDANCE WITH FEDERAL LAW, NO FEDERALLY BANNED SUBSTANCES ARE ALLOWED, INCLUDING MARIJUANA.

If you wish to provide dinner for our guests please click on the "meal Train" icon above, set up your free account and pick a date! It's that simple.
To stay at Denver Fisher House contact Melissa Harding at:
1-303-364-4616 or Toll Free 1-888-336-8262 ext. 2049. PLEASE DO NOT USE THE GENERAL CONTACT FORM, YOUR HOUSING REQUEST CANNOT BE TAKEN THROUGH THE WEBSITE!
To volunteer at Denver Fisher House or for special events contact Maggie at:
MKirchner@DenverFisherHouse.org or call 1-303-632-7319
To hold a fundraiser for Denver Fisher House contact Melanie at:
MStarkman@DenverFisherHouse.org or call 1-303-632-7319
Check donations (please designate either general or building fund on your check) should be made out to:
Denver Fisher House Foundation
14001 E Iliff Ave., Suite 210
Aurora, CO 80014